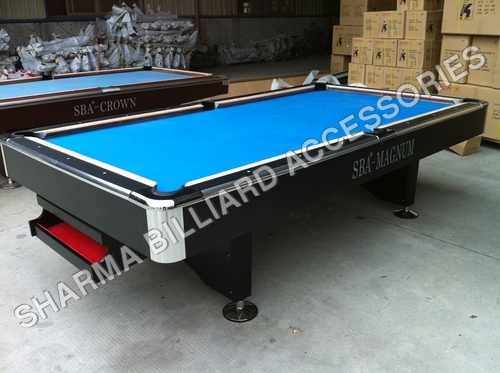 American Pool Table(Magnum)
Product Code : SBAM08
Product Description
American Pool Table(Magnum)
American Pool Table (SBA Crown)
One Standard Size 8` X 4 Pool Table in wooden frame hard wood with 3 slates
Imported Italian Slates of 1" thickness, 4 legs with nut adjuster and 6 latest
International design Imported Inner leather pockets.
Pool table cloth WIRAKA PRO, Made in Singapore Blue, red or seagreen color.

List Of Accessories
1 One Imported Pool Ball Set 2x 1/4".
2 4 wood force Cues Maple wood of Tournament standard.
3 2 fancy Lamp Shades.
4 One Billiard Table covers to protect the table from dust.
5 Twelve pieces of Billiard Chalk (Triangle).
6 One Wall Cue Rack mounted on the wall for the capacity up to 6 cues.
7 12 pieces of Tips.
8 One wooden Triangle.
9 One Brush.
10 One rule sheet
11 12 pieces of Billiards chalk.
a Pool Table Magnum from "SHARMA BILLIARD ACCESSORIES" SBA