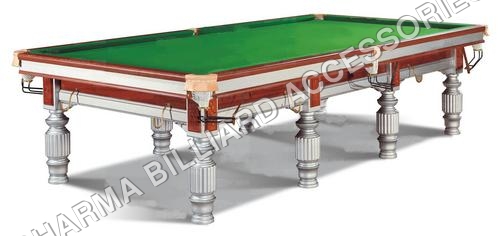 Diamond Billiard Table
Product Code : SBAD008
Product Description
Diamond Billiard Table
The size is 12 x 6 feet. The wood used in the making of this table is seasoned CP Teak. Imported Slates are used in place of marbles for the bed of the tables. The thickness of the slates is 1 3/4 .The surface of the tables is then given Melamine polish in several layers which are laid carefully one over the other to give the tables a better shine, look, tone, quality and easier maintenance.
List Of Accessories:
1. One Billiard Cloth, best quality (DP-2) No. 6811 West of England (32 Oz).
2. One set of new Snooker Balls. Made in Belgium Aramith tournament champion (22 Balls)
3. One set of new Billiard Balls. Made in Belgium (3 Balls) Aramith tournament champion
4. One set of Rubber Cushion (Northern).
5. One score board, latest designs, polished hard board with brass runner & Pointer.
6. Billiard six Cues of ash wood of any weight any size SBA make.
7. 4 fancy lamp shades
8. One straight edge with half circle.
9. One Billiard electric special Iron.
10. One long butt cue.
11. One long rest.
12. One spider.
13. One short rest.
14. One Billiard brush.
15. One Billiard table cover for dust.
16. One mini Snooker rail pocket, set of six.
17. One plastic Snooker triangle.
18. 20 piece plastic of chalks.
19. One box of tips (50 pieces)