Mini Billiard Table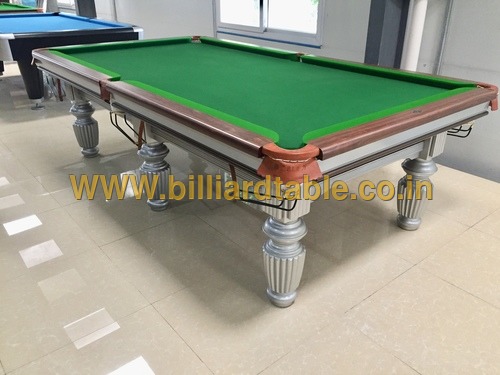 Mini Billiard Table
Product Description
Mini Billiard Table
We feel pleasure to introduce ourselves as one of the foremost manufacturers, exporters and suppliers of a broad collection of Mini Billiard Table. Available in a gradation of finishes, our table is crafted under the guidance of our professionals using quality assured wood at par with the set industry standards. This Mini Pool Table is highly appreciated for its attractive look, durable finish standards, dimensional accuracy, fine finish, compact design and sturdiness.
SPECIFICATIONS

Legs

1 piece solid construction legs

Pockets

pocket leather selected from the best quality hides, Pocket openings comply with wsa official official template specifications

Cloth

Strachen cloth 6811 (England), 30 oz as standard

Colour

Golden

Slate

Precision honed Heavy duty 45mm Italian 5 pieces slates with pin joint

Cushions

Unique Steel block constructed cushions for optimum performance

Frame

Double bolted rigideous frame, Solid wood construction

Rubber

Best quality Northern rubber cushions (Made in England)

Balls

SUPER CRYSTALATE balls (snooker set 21/16")
One set of new Snooker Balls. Made in Belgium Aramith tournament champion SUPER CRYSTALATE (22 Balls)
One set of new Billiard Balls. Made in Belgium Aramith tournament champion (3 Balls)


Dimensions

Playing Area : 3560 x 1780mm (140" x 70")
Overall Size : 3850 x 2060 x 850mm (151" x 80" x 331/2")
Snooker tournament templates


Accessories

High Standard accessories list below
1 x Billiard table cover for dust protection
1 x Billiard brush
1 x cross rest with metal heads
2 x low spider rests with metal head
8 x Copper Hooks, 1 x Undee Cue Holder, 1 x Swan Neck Rest with Metal Head, 1 x Extended Spider Rest with Metal Head, 1 x Iron, Table Heaters,
One score board, latest design, polished hard board with runner & Pointer
6 x SN -5 Billiard Cues of ash wood of standard weight and size
1 x wooden Wall cue Rack for Capacity up to 6 cues
4 x fancy lamp shades
1 x straight edge with half circle
1 x Billiard electric special Iron
1 x long butt cue with one long rest
6 x Snooker rail pocket
1 x plastic Snooker triangle
20 x chalk and tips
Billiard table manufacturers, pool table manufacturers, snooker table manufacturers,dealers of snooker table, dealers of pool tables, dealers of billiard tables.