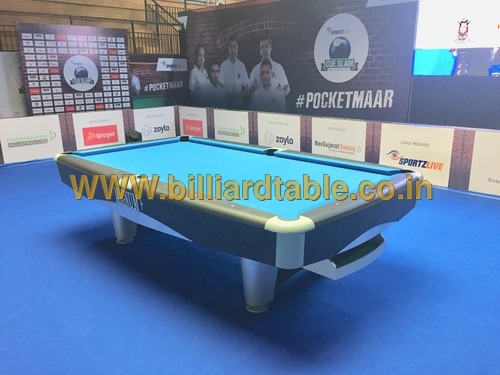 Ovel American Pool Table
Product Code : SBA 16
Product Description
Imported American Pool Table (ovel)
Pool Table (9'x4.5') with Italian Slates, Thickness 1 inch, International Playing Area, maple wood material, ball return system, professional cloth ,drop pockets marble film and paint black mahogany and legs marble film. Equipped with best range of finest accessories these unmatched quality Imported professional American Pool Table facilitate one to enjoy the game as well as luxury together.

List of Accessories:-
1.One Ball Set 2x1/4.
2.Four Billiard Cues Ash Wood of any weight, any size.
3.Two fancy lamp shade.
4.One Billiard Table Cover to protect the table from dust.
5.Twelve piecees of Billiard Chalk.
6.One Wall Cue rack mounted on the wall for the capacity.
7.12 pieces of Tips.
8.One Plastic Triangle.
9.One Bursh.