Steel Cushions Snooker Table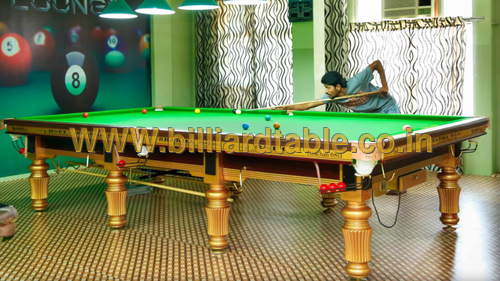 Steel Cushions Snooker Table
Product Description
Steel Cushions Snooker Table

List Of Accessories:
One Billiard Cloth, best quality (DP-2) No. 6811 West of England (32 Oz).
One set of new Snooker Balls. Made in Belgium Aramith (22 Balls)
One set of new Billiard Balls. Made in Belgium (3 Balls) Aramith
One set of Rubber Cushion (Western).
One score board, latest designs, polished hard board with brass runner & Pointer.
Billiard six Cues of ash wood of any weight any size SBA make.
4 fancy lamp shades
One straight edge with half circle.
One Billiard electric special Iron.
One long butt cue.
One long rest.
One spider.
One short rest.
One Billiard brush.
One Billiard table cover for dust.
One mini Snooker rail pocket, set of six.
One plastic Snooker triangle.
20 piece plastic of chalks.
One box of tips (50 pieces)
Product Specification
Made Of: Season hard maple wood
Size: 12 x 6 Feet
Speciality: Imported Slates
Thickness: 1 3/4" Thickness
Legs: pure hard maple wood
A product by "SHARMA BILLIARD ACCESSORIES"
Product details
| | |
| --- | --- |
| color | green |
| Features | Legs1 piece solid construction leg Pocketpocket leather selected from the best quality hides,pocke |
| Type | table |
| Color Of Table Cover | Green |
| Sport | Snooker Pool Billiard |
| Quantity Per Pack | 1 |
| Color | Natural Black |
| Size | 12/6 |
| Material | Wood |
| Usage/Application | For Snooker Pool Billiards |
| Accessories | 1 x Billiard table cover for dust protection 1 x Billiard brush 1 x cross rest with metal heads 8 x |
| Number Of Legs | 8 legs |
| Shape | Rectangular |
| Sport Type | Snooker Pool Billiard |
Legs

1 piece solid construction leg

Pocket

pocket leather selected from the best quality hides,pocket openings complying with WPBSA official template specification.

Cloth

Strachen cloth 6811 (England), 32/30 oz as standard

Colour

Golden & Cherry combination/ Cherry Color/ Matte/ PU sirca glossy finish

Slate

Precision honed heavy duty 45mm imported slate with pin joint in each slates

Cushions

Unique "l" steel bloack / wood block constructed cushions for optimum performance

Frame

Double bolted rigid frame, solid wood construction

Rubber

Best quality northern rubber cusion (Made in England)

Balls

(BallsTC 2 1/16") one of the set of new snooker balls. Made in Belgium Aramith (22 balls)

Dimension

Playing Area : 3560 x1780mm (140"x70")

Overall Size : 3850x850mm (151"x80"x33 1/2") According to international Tournament Standard

Accessories

1 x Billiard table cover for dust protection

1 x Billiard brush

1 x cross rest with metal heads

8 x Capper Hooks

1 x Wave Hooks Set

1 x Swan neck Rest with Metal Head

1 x Parrot Rest with Metal Head

1 x score board Wooden with runners & Pointers/Electronics Score Board

1 x Special Set of Heaters with the table

6 x Billiards Cues of ash wood of standard weight and size

1 x wooden Wall cue Rack for Capacity up to 6 cues

1 x Fancy lamp shades set of 6 pcs

1 x straight edge with half circle

1 x Billiard electric special iron

1 x long butt cue with one long rest

6 x Snooker rail pocket

1 x plastic Snooker triangle

12 x chalk and tips
manufacturers of billiard tables, manufacturers of snooker tables, manufacturers of pool tables, manufacturer of billiard table, manufacturer of snooker table, manufacturer of pool table
Trade Information
50-100 Per Month

10-15 Days
as per customers requirement

All India